Thursday, 8:30 PM. I felt discouraged by my lack of Zolas tickets and lack of replies re:buying said tickets from people online. Katie texted me, wondering if I was going. I told her my situation and she texted that when she'd arrived at Commodore, there was somebody selling some outside.
In a rush I put on socks and boots, dragging my boyfriend Avry out the door.
We ran for the 10 bus, made it (some good luck we'd stumbled onto), and as soon as we stepped off at Smithe Street, we heard a sweet, sweet voice: "Tickets to Commodore, sold out show!" The scalper had 2 tickets on hand (some
very
good luck).
The Commodore Ballroom was vast, but not packed yet. I don't remember climbing up several levels of stairs to reach the floor, but apparently there were several levels of stairs when we left around 1 AM (I walked down them in my utter confusion, questioning my altered level of consciousness).
Katie and her boyfriend came up behind Avry and me; we said hey.
PUP
was the opener. Something that Avry could get into. We threw our coats and headgear (Avry's fedora, my headband and headphones) onto a bench and decided to do the right thing: headbang. People around us stood still or swayed at the very best. PUP was energizing and the lead singer was interactive.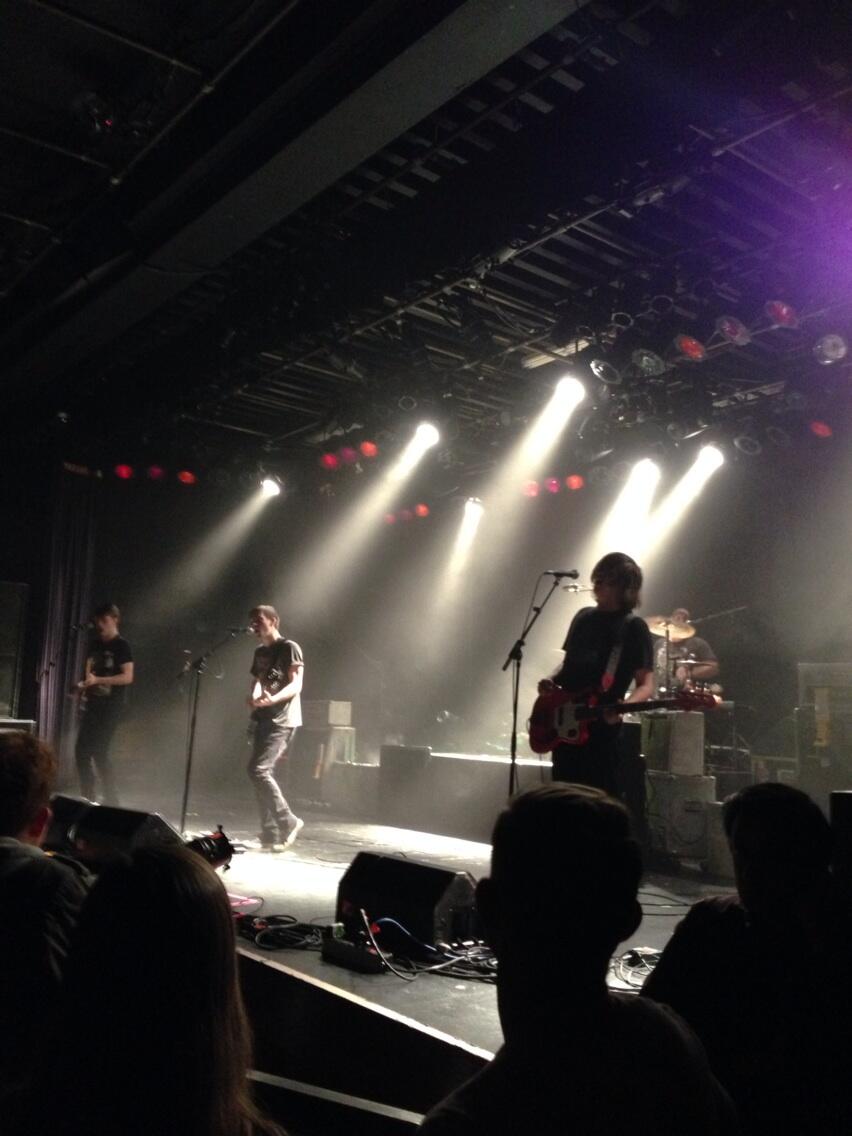 Hollerado
was next, and I made my way from the side to centre-stage, where someone from my high school was planted front row with her boyfriend. A group of girls really hated my guts for half the show, until I relented and gave them their spot back -- I had to pee. The special effects really differentiated Hollerado's set from the other bands'. However, I feel as though they were a distraction from their music... but because their fanbase is on the younger side, everyone really got into it. There was confetti, streamers, seizure-inducing strobe lights, and even fake snow at a few high points of their set. Jesus. It was fun for, like, 30 seconds.
The crowd was super dense now, and anticipation for
The Zolas
was at a high. Avry and I pushed through the crowd and haggled with this guy and some girls to make it to third row, centre stage. I made conversation with this guy, and accidentally called him an asshole. He took to me and offered to push me forwards even more, but I refused, stating that once the music starts, I'll be able to do that myself.
I didn't need to be up front anyway. All I wanted to do was listen to some of my favourite songs performed live.
Strangely, that did not, and could not happen. It was practically a sing-a-long. I could close my eyes and listen harder but could not drown out everyone's sudden fondness for karaoke. Zach, the lead singer, resorted to asking the crowd to sing along, since they were doing so anyway.
Somebody poked me in the back. I said "hi" to my friend and her gang. They had a joint and wanted to share. Of course a security guard came up behind me and told me to put it out specifically. It was karma (I had already received so much good luck beforehand, this was an act of balance).
The first Embarrassing Moment happened as Avry picked me up by my knees, completely out of the blue, and thrusted me at Zach. Initially I voiced my refusal of his unnecessary "support", but then felt elated above the crowd and screamed Z.'s name, then felt angry again and screamed to be put down. I was conflicted. Can I still be super hyped up about a band that I tweet at calmly like a normal person during the day?
Some commotion at the very front: a random girl was swaying 180 degrees, allll around, and pissing a lot of people off. In the next few songs, she battled it out with a very irritated teenage girl, grabbing at each other and pulling out hair. "Fuck," I thought to myself,
this might escalate
. "They're ruining this for everybody!" I complained to the girl on my left.
"Guys, don't fight!" I tried to yell but people were pushing now. A few courageous young people pulled the girls apart with force. I felt useless and disappointed.
Some side notes: at one point in the show, everyone was clapping to a song in a very particular manner but I genuinely thought Zach wanted the clapping to be done in a different way. I thought this was hilarious, and tried to convert the claps but no go; the sound system was a bit whack sometimes, but I guess they had to turn it up to accommodate such a large crowd.
Zach tried to make conversation between songs but everybody was applauding and whistling and screaming a bunch of shit. I thought he was trying to crowdsurf at one point in time, but nobody was being receptive. I wanted to hop to the front at that moment and pick him up over everyone's heads. Everybody had their hands up and
nobody
wanted to pick him up to crowdsurf? Really?
The music was good. I detected a few variations from their studio recordings. The vibrations were pretty amazing. I felt them and everything was slowed down and magical. The techno-y parts sounded delicious through the speakers or whatever, especially the drop in "Cold Moon" and the post-chorus of "Local Swan". It was futuristic and earthly at the same time.
I let a short girl step in front of me and she was so grateful I wanted to hug her and tell her "it's okay" because I too have felt the pains of being small.
In "Escape Artist", my second Embarrassing Moment occured. I had no clue why but people in front of me were continuously asking me to go up to Zach as he stood in the middle of the dancefloor with his keytar (or at least that's what I think they were doing, and that's what I think Z. was holding). Everybody had their cellphones out and were snapping selfies with Zach! Whoop, big fucking deal. Listen to the fucking song!
My friend's friend got stuck right up against Zach and her face showed true horror and awe. I wanted to take her hands, squeal, and dance around in a circle like girls do in TV shows when they talk about Brad Pitt or something.
He had a mic! He had a mic and he was headed in my direction! I felt like something was up but I was scared. I was too shy, too high. Suddenly I was in front and everybody was retreating from Zach for some reason so I rushed forward and shouted his name! I grabbed his arm instead of the mic and I wanted to say "thanks for playing this song" or "hi, remember me?" but instead I felt ashamed in an ocean of teenagers and pushed back outwards. I turned around and examined everyone's faces. Were they enjoying the music or were they caught up in celebrity status? Was I treating The Zolas like human beings or was I unconsciously labelling them as "performers" and myself as "fan"?
I walked backwards and Avry joined me, telling me it was okay. But why couldn't I just do it: sing a chorus, a line, even?
Another fight broke out and Avry stepped in this time to separate two guys duking it out. He's having a grand ol' time because he never expected any fighting at this show, and I was just behind him going "Stop it, you guys don't need to fight" like a self-help cassette tape.
It's over and Avry and I sat down to contemplate the show. I told him that The Zolas were getting too big. The shows aren't fun anymore. Everybody wants to sing along, nobody wants to listen to the songs. Everybody wants to cheer and nobody wants to participate in conversation between songs. Everybody was a fan. Including me.

TWITTER / LOOKBOOK / FACEBOOK / YOUTUBE / TUMBLR / BLOGLOVIN